How To Make Basbousa With Coconut Recipe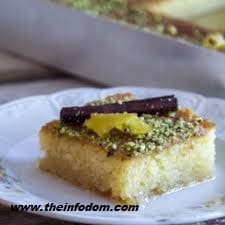 Basbousa with coconut is a traditional Middle Eastern sweet cake or dessert that originated in Egypt. It is made from a semolina batter and sweetened with and orange flower water or rose water simple syrup. In this dessert also use yogurt and desiccated coconut. this dissert is most famous in Arabic countries just like baklava.
Ingredients of the dessert
You May also like
Bread Pudding with Raisins and Butterscotch Sauce
Preparation / instruction
in the medium bowl mix together semolina, flour, sugar yogurt, oil coconut, and baking powder, Set aside for 30 minutes.
In a small saucepan stir together the water 1 ¾ cup sugar and rose water .bring to boil and boil for 4-5 minutes remove from heat and set aside to cool to remove temperature.
Preheat oven at 180 degrees our and spread the semolina batter into the bottom of a 9*13 inch try. Slice into squares or diamond shape and place on almonds half on to each place
Bake for 20 minutes in a preheated oven or until light brown. lastly, grill until the top is golden. remain 3-4 minutes is the oven further
Remove from the oven and pour the prepared syrup over the Barbosa squire when the syrup becomes part of the basbosa.
Basbusa dessert is ready to serve, serve warm.
Nutrient Value (Per Serving – Serving size may vary based on the recipe)
| Nutrient | Amount |
| --- | --- |
| Calories | Approx. 350 kcal |
| Protein | Approx. 5 grams |
| Carbohydrates | Approx. 60 grams |
| Dietary Fiber | Approx. 2 grams |
| Sugars | Approx. 40 grams |
| Fat | Approx. 12 grams |
| Saturated Fat | Approx. 6 grams |
| Cholesterol | Approx. 25 mg |
| Sodium | Approx. 5 mg |
| Potassium | Approx. 50 mg |
| Calcium | Approx. 10 mg |
| Iron | Approx. 1 mg |
Please note that these values are approximate and can vary based on factors such as the specific brands of ingredients used and the serving size. Additionally, this nutrient value does not take into account any variations or additional ingredients that may be used in the recipe.