How to Make Black Forest Cake – Easy Step by Step Recipe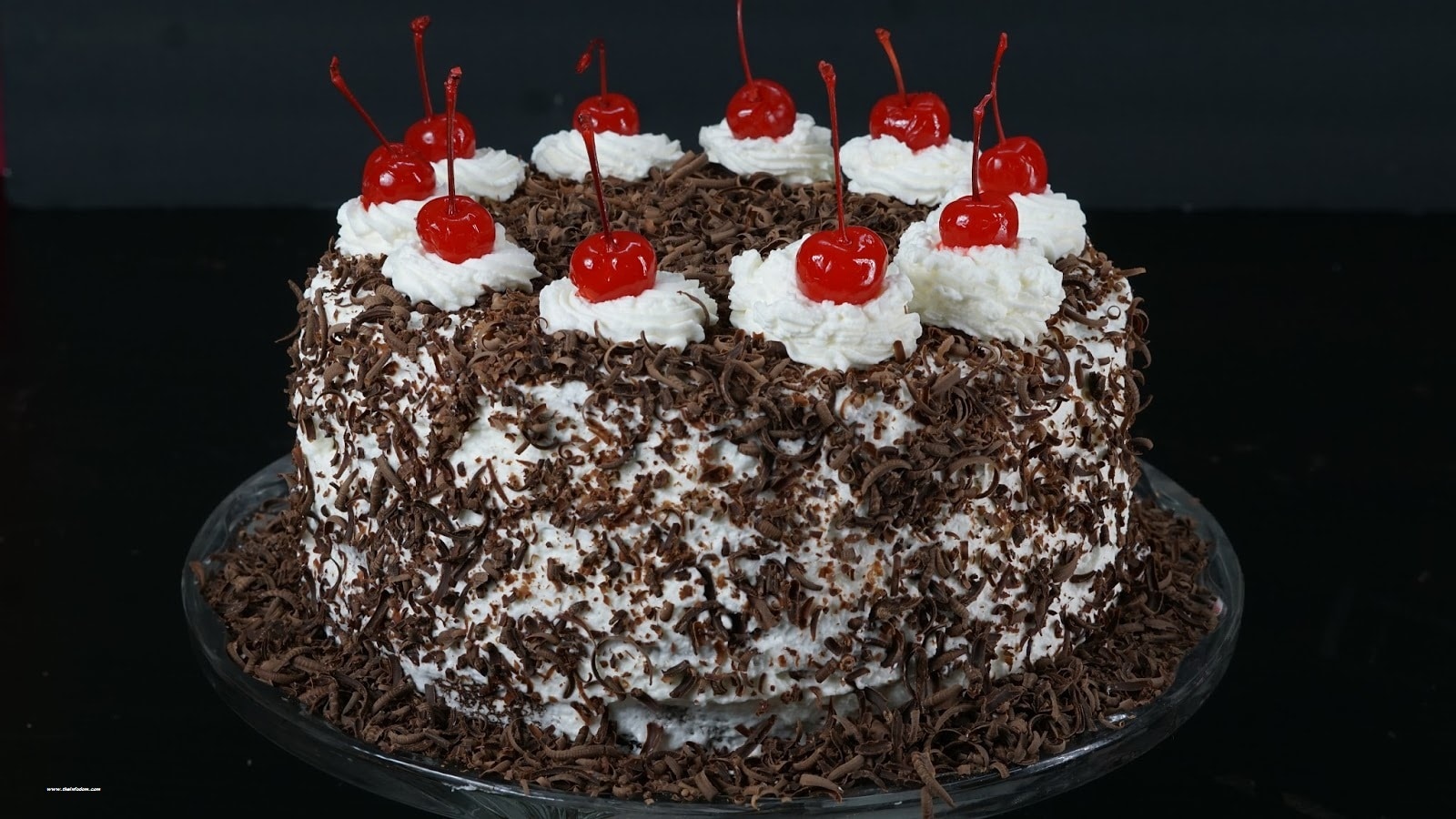 Black Forest cake or Black Forest dessert is a German dessert, typically made out of chocolate sponge cakes, sandwiched together with fresh whipped cream, cherry filling, and Kirsch. This recipe has everything but the Kirsch (but feel free to add in a healthy splash to the cherry filling if you're feeling traditional).
BlackForest Cake Recipe
Ingredients
Items
Quantity
Sugar
220gram
Fine Flour
170gram
Cocoa Powder
30 grams
Egg
10
Vanillas extract
2 teaspoons
Preparation
In the bowl combine fine flour sugar eggs cocoa powder and vanilla extract beat until well blended
Preheat oven to 180degree.
Greased and flour nine-inch round cake pan and line with parchment paper.
pour cake batter into prepared cake pans
bake preheated oven for 20-25 minutes or until wooden stick /cake checker inserted comes out  clean
After bake removes the cake from oven and lives the cake to wire racks until completely chilled.
You can also check:Bread pudding with raisins and butter scotch sauce
Cake Frosting Recipe
Ingredients
Items
Quantity
Fruit cocktail
1   ½    tin
Whipped cream
200 grams
Chocolate chip
100grams
Sugar syrup
as required
Condensed milk
100 gram
Topping/Frosting Recipe:
With long serrated knife spilled into two each cake layer horizontally in half.
Tear one spilled layer into crumbs and set-aside
Place the cake on the revolving cake stand and moist the cake layer with sugar syrup and condense milk on it
And then put whipped cream with the help of cake spatula knife and spread on the cake evenly and sprinkle the chopped fruit cocktail on it add the second layer of sponge cake and repeat the same process again and add final sponge cake layer use our offset spatula to spread a thick layer ½ inch of frosting smooth the top and side as well with the help of scraper.
Sprinkle the chocolate chips on the side of the cake and put whipped cream into a piping bag and do design as you want.