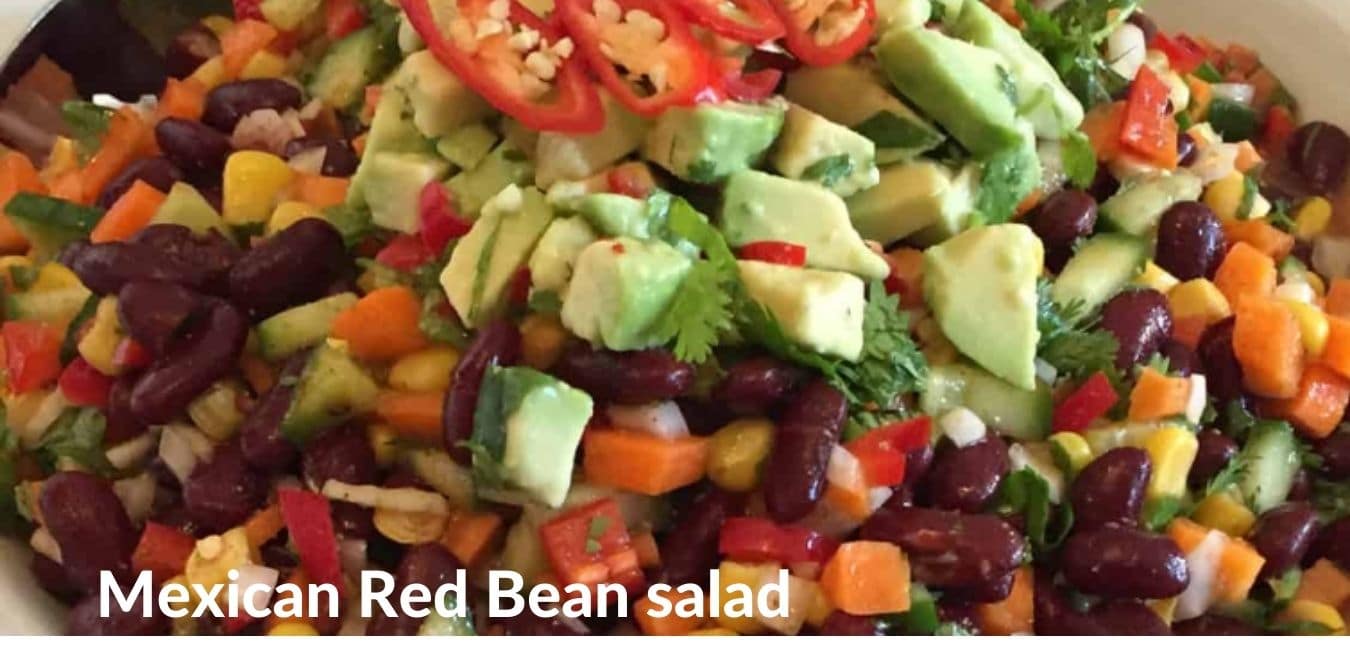 Mexican Red Bean Salad recipe is really healthy and full of Nutrition, bean salad is a mixture of fresh vegetables with lots of flavour from spices and herbs. It's a really good source of  protein, actually, most people want to eat this salad during their dieting and weight loss journey because this is a low-calorie meal that fills up your stomach and boosts up your energy long time
Mexican Red Bean Salad
| | |
| --- | --- |
| Ingredients | Quantity |
| Capsicum | Julian cut 250Grams |
| Red bell  pepper | One chopped |
| Spring Onion | 250 Gram, |
| Green chillies | ¼ Cup |
| Tomato | ¼ Cup |
| Onion | ¼ cup |
Read bean  (soaked 12 12 hours)    Boiled    1- ½
Salad Dressing
| | |
| --- | --- |
| Ingredients | Quantity |
| Oil | 4-5 tablespoon |
| Red chilli crush | 3- ½   Tablespoon |
| Black Pepper Powder | 1 tablespoon |
| Salt | 1 tablespoon |
| ground cumin | ½ tablespoon |
| Ketchup | Two cups |
| crushed garlic | One clove |
| Vinegar | ½  cup |
Method
Step 1
Wash red bean and then soaked for twelve-hour /overnight
Boiled the bean and then drain into strainer
Step 2
In a bowl heat oil and add red crushed red pepper cooked 2-3 minutes after 2-3 minutes add a half cup of water also add one bone ingredients and mix well.
Step 3
Add all vegetables to the bowl also add boiled red bean  and sauce  in it and mix well
Red bean salad is ready to serve to enjoy it.
You can also add pure olive oil dressing to it
Nutrition Facts
Per Serving:
334 calories; protein 11.2g; carbohydrates 41.7g; fat 14.8g; sodium 1158.8mg.