How To Make Gulab Jamuns Step By Step Easy Recipe
Gulab jamuns (more or less translated as "rose fruits") is named after the fact that they resemble a Jamun (a fruit of the subcontinent) and are usually soaked in a rose-water-flavoured syrup. While some say they were introduced to the subcontinent by Turkish invaders from Central Asia, others claim they were accidentally discovered by the personal chef of Mughal Emperor Shah Jahan.
Mostly, the fried balls are made from milk powder, flour, butter, and cream or milk, and then soaked in sugar syrup. I know they sound awful when I say it, but they are so delicious (I promise).
It's hard to describe something that melts in your mouth once it's bitten, something that travels through your food pipe and fills it with its warmth and gives you some satisfaction that only delicious food can offer.
But that's precisely how gulab jamuns make me feel. These soft cushions baked dough filled with syrup give you the kind of comfort that you feel when you are with your family. Not to mention that a desi party is not complete, unless these delicacies are present, whether it is a Shaadi, Eid, aunt's commission parties … I can continue here. My mother even buys them randomly to satisfy her sweet tooth.
After many disasters and triumphs, the gulab jamuns were part of my triumph parade.
Gulab Jamun recipe Ingredients
Ingredients for hundred pieces
Ingredients
Quantity
Oil
For Frying
Sugar
One Kg
Water For Syrup
Two litter
Khoya
One kg
Cardamom
10-15 No
Fine Flour
200 Grams
Semolina
200 Grams
Baking powder
1-½TPS
Eggs
2NO
Baking soda
1Tbsp
Cardamom powder
1Tbs
Method/Preparations
How To Prepare Jamun
In a large bowl add khoya and mash it very well, there should be no lumps.
Add Semolina, Fine flour, Baking Powder and cardamom powder in khoya bowl and mix well, there should be no lumps.
Mix well at least 15-20 minutes, just gently, just gentle mix.
If you are unable to firm balls and the mixture appears dry then add 1teaspoon of milk powder. Cover the dough and keep aside  for 30 minutes
Make small balls from the dough, cover the balls and keep aside.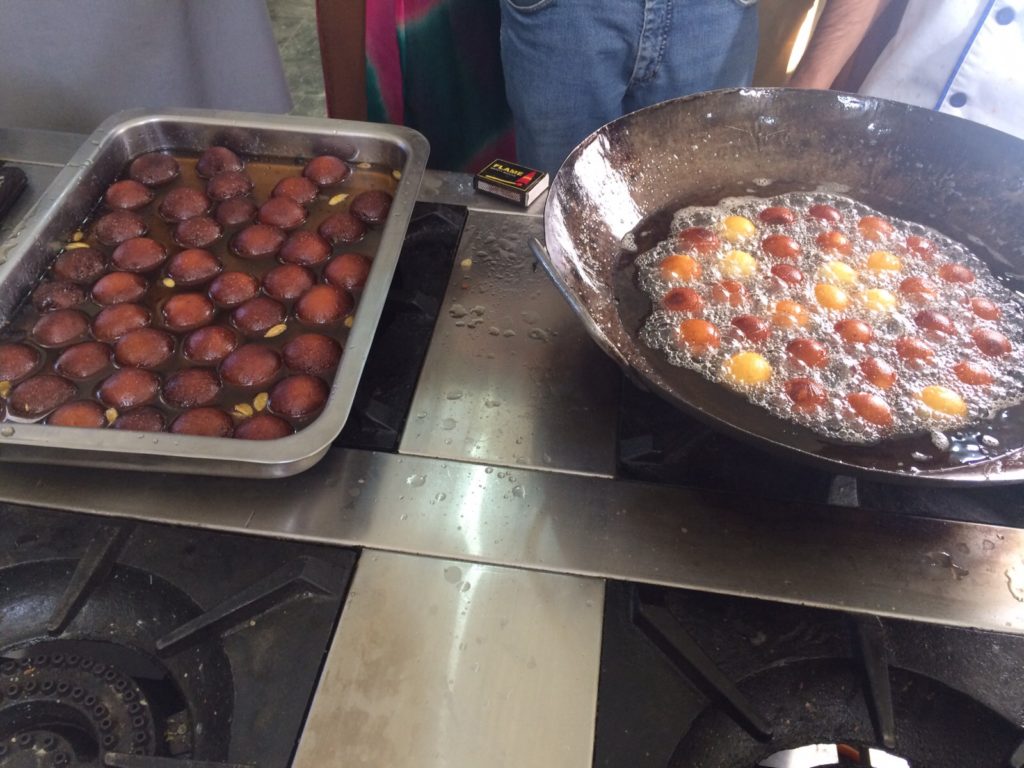 Note
Each ball should contain 20Grams
Preparing Sugar syrup
Dissolve sugar in water, heat the sugar solution till it becomes stick .you just need to switch off the fire before the syrup reaches a one-third consistency, ad rose water and stir, keep the sugar solution aside.
You can also check:https://theinfodom.com/how-to-make-ultimate-chocolate-fudge-cake-step-by-step-essay-recipe/
Frying Jamuns:
Meanwhile, the sugar syrup is cooking heat oil till its medium hot
lower the flame and wait for a minute and then gently place the gulab jamuns in the oil.
Once they start to have tiny golden spots keep them rotating in the oil. So that the Gulab Jamun are evenly browned.
Remove the gulab jamun from oil and then drain them on kitchen paper towels to remove excess oil.
After that place the gulab jamuns in the sugar syrup
Use a large pan, so that the gulab jamuns over crowed and you can easily stir them gently, while they are simmering.
Remove from sugar syrup and gently coat with dedicated coconut
serve them hot
you can also serve with sugar syrup.