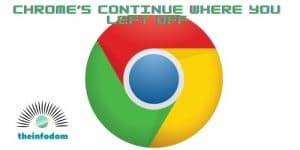 A question of how to fix chrome's continue where you left off. There is a handy and useful feature in Chrome called "Pick up where you left off." What it does is save your work, i.e., all open windows and tabs when Chrome crashes or shuts down without your permission. When you restart Chrome, all windows and tabs reopen. Great, huh? However, the feature doesn't seem to work for many users.
Some users have complained that when they restart Chrome, some or all tabs and windows are lost. Others have complained that somehow more windows and tabs are opened than were open at the accident. That's so weird. Cache problem?
Let's take a look at some common and not so common solutions to this Chrome issue.
Update Chrome
Chrome updates itself unless you have disabled the setting for a reason. There are two ways to update it. One is you can download the latest version from the official page. The second is to go to Settings and look under the about tab.
Another way is to simply click the three-dot menu icon, and if you can see the Update Chrome button, there is an update available; else you are using the latest version.
Disable extensions
While extensions add a lot of functionality to the browser experience, they can also sometimes break things. Disable all extensions and check if the Continue function works where you left off or not. Open the menu and select Extensions under More tools.
Clear the cache
The cache may be responsible for that strange behavior. Open Settings and scroll to the bottom of the screen to click Advanced. More options should now be visible. Scroll until you find Clear browsing data just above the Languages heading. Click it to display the following options.
After that, many other options are available and start scrolling down again until you see Clear browsing data. Click on the alternative. If you click on it, a window will appear in which you see three options.
Check the options for cookies and site data and mark a checkmark next to cache images and files. When you are done, click on the Clear Data button, but don't forget to save all your data before doing this as some sites will again offer you a registration option due to data deletion.
Turn it on again
Sometimes the mode works when you turn it off and then turn it back on. If you want to try that open configuration, search in the search bar for "Continue where you left off."
Uncheck the option, close Chrome, reboot the system, and turn it back on after some time.
Do not create a shortcut
There is a feature called Create Shortcut. This feature can be useful because you can access your favorite sites by clicking the shortcut when the browser opens, but it can cause you a big problem and stop working where you left off.
Instead of this feature, you can save your favorite sites with a bookmark or pin them to a tab. These two can be more manual than the shortcut option.
If you want to pin the tab, you need to right-click on the tab to pin it, because every time you open Chrome, the tab will open immediately after pinning. The bookmark can be saved using the star icon on the right side of the address bar.
Process monitor
The process monitor was created by Microsoft for all of its operating systems. The program generates a list of all processes and logs running on your system in real-time.
This program is an advanced monitoring tool that can also replace some of the Task Manager functions.
New user
The new user account can also solve various problems as it can give you new administrator rights. To do this, press the Window key + I on the keyboard to open the settings and choose the account option.
When entering the account option, click on family and other users and then click on Add someone else to this PC. Then follow all on-screen instructions to create the account. Choose the Admin option and try Chrome again.
Reinstall Chrome with the old profile
How to back up Chrome data fix chrome's continue where you left off, so it works where you left it. For that, you need to navigate to the Chrome folder and back up the default folder.
The default folder is the folder where your bookmarks and other data are stored. After that, uninstall and reinstall Chrome. When Chrome is reinstalled, save the backup folder and Chrome folder and try the mode again.
Conclusion!
With these methods, you can definitely fix chrome's continue where you left off a start where you left off. If you need our help, we'll be here, you just need to comment in our comments section, and we'll get back to you shortly.
Categories Errors
Navigation message
How to fix the SedLauncher high disk usage problem? (Guide)
What is Mbamservice.exe? Is it safe, or is it a virus? – (Guide)With these methods, you can definitely start where you left off. If you need our help, we'll be here, you just need to comment in our comments section, and we'll get back to you shortly.
Categories Errors
Navigation message
How to fix the SedLauncher high disk usage problem? (Guide)
What is Mbamservice.exe? Is it safe, or is it a virus? – (Guide)